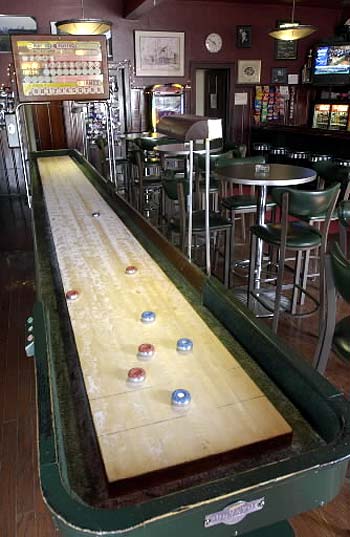 I was out yesterday, having breakfast and doing some visiting. I was out again for lunch today. I'm about to go back out now since the Middle Child is about to embark on her big adventure, a semester in France, and I'd like to wish her well before she goes. Also Neeley and her man are in town.
Now I'm about as far from a social butterfly as you can get so this is really hard for me. I used to be much better at it. But all things go in cycles and I'm in an avoid the world phase these days. My mind is too full of characters to have much room left for real people.
Today's lunch brought back lots of memories. We went to Ronies, Home of the Steak at 936 Exeter Street. Ever been there? If not, it's an institution. A tradition for folks in Northeast Reading. Owned by Ronie and Donna Burns, forever I think, it's a somewhat typical corner bar. Reading has a gazillion of them so why should you make Ronies a destination of choice? Not the atmosphere, that's for sure. It hasn't changed one bit in the twenty-five years I've been hanging out there.
So what is it about the place that's kept me going back? Ronie and Donna. A pair of real characters I assure you. Ronie is very set in his ways. If he thinks you might be okay the first time you go in, you'll be served in about an hour. If you go back a second time it will only take half an hour. The third time, a few minutes. If he decides you're riff raff you never get served. That's one reason I used to go there every Friday night, to watch the kids from nearby Albright College attempt to attract Ronie's attention. I tell you he can ingore you with the best of them. He makes it into an art. Even when refreshing my drink, he could look right through the smartass kid sitting next to me no matter how loud the kid got or what he said. But I warn you, if Ronie really likes you, he never takes your money so you can't ever leave. Or not until Donna comes in and has everyone settle up. She's the chatty one of the pair, remembering every detail of each conversation so she can continue it next time you're there. Amazing.
The other excellent reason to head to Ronies is the steak sandwiches. Ronie starts with a slab of delmonico steak which he slices himself. He fries it up on a flat grill with sliced onions beneath it. A slice of cheese melted on top, slap it into a club roll and you're all set. Some add worchestershire sauce but not me. I prefer mine plain.
I remember one summer when I had vacation to use up. I took off every Friday afternoon from Memorial Day to Labor Day and spent everyone of them at Ronies. Since I was social back then it wasn't unusual for various people to join me throughout the afternoon. Nor was it unusual for me to have a steak sandwich for lunch and then another with spicy fries for a late dinner. Of course that was back when it was safe to walk around my neighborhood so I could also enjoy several beverages. At that point I was there often enough that Ronie had a bottle of Johnny Walker Black stashed behind the bar, just for me. Memories...
Don't forget you still have time to enter the contest Amarinda and I are having in honor of our new releases Friday.
Want a chance to win a copy of two brand new e-books releases from Ellora's Cave? Of course you do.
Linked by Barbara Huffert
and
Tantalizing Tilly by Amarinda Jones
are out now. To be in the running to be a winner just answer these two simple questions:-
1. Where does Tori see the killers?
2. What creatures is Tilly fighting off?
The answers are in the blurbs. Click on the two covers for the blurbs. Simple. The first correct entry drawn at random will win both copies. The second and third entries drawn win one book each. Send your two answers to either
amarinda_jones@yahoo.com.au
or
bhuffert@gmail.com
. Contest closes midnight (EST USA) Sunday 19th January. Good luck.