It's dark. You're sound asleep. Only not peacefully. You see awful, terrible, horrible things happening. And there's not a damn thing you can do to stop it.
And then it gets worse. Whoever is doing whatever notices you standing there and decides you need to be taken care of so you can't interfere. So you can't tell.
Or even more horrifying. They come to get you to take you along so you can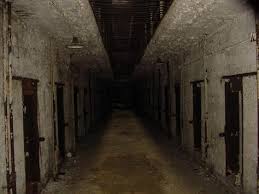 record the heinous things they're doing. Night after night. You can't resist. You have to go. You don't help but you don't prevent any of the atrocities. You walk to the end of the corridor and watch. And live with it.
Eventually what you're seeing sinks in and you begin to struggle. You can't at first. You try to move because you know that will wake you up. You try to scream. You can't. You're trapped, watching over and over as someone gets killed in the most terrifying ways ever. Ways you can't begin to comprehend actually happening to anyone.
But I've seen it. Or I've been the victim. Sooner or later I do manage to scream myself awake. Yeah, that's always fun. I used to have Mouse to soothe me with his purrs. The other cats don't understand how much I need that so they don't rescue me like he used to.
Once the screaming stops because I've realized it's me and I'm fine, I have to get up and wander around the house a bit. If I don't, I slip right back into the nightmare and it picks up where it left off. Unless it goes back to the beginning and I get to relive it, knowing what's coming, not really
asleep but not really awake either.
That's my life and yes, I have gotten used to it to some extent. You do when it's always been that way.